Ynys Fawr
Tasmania, Australia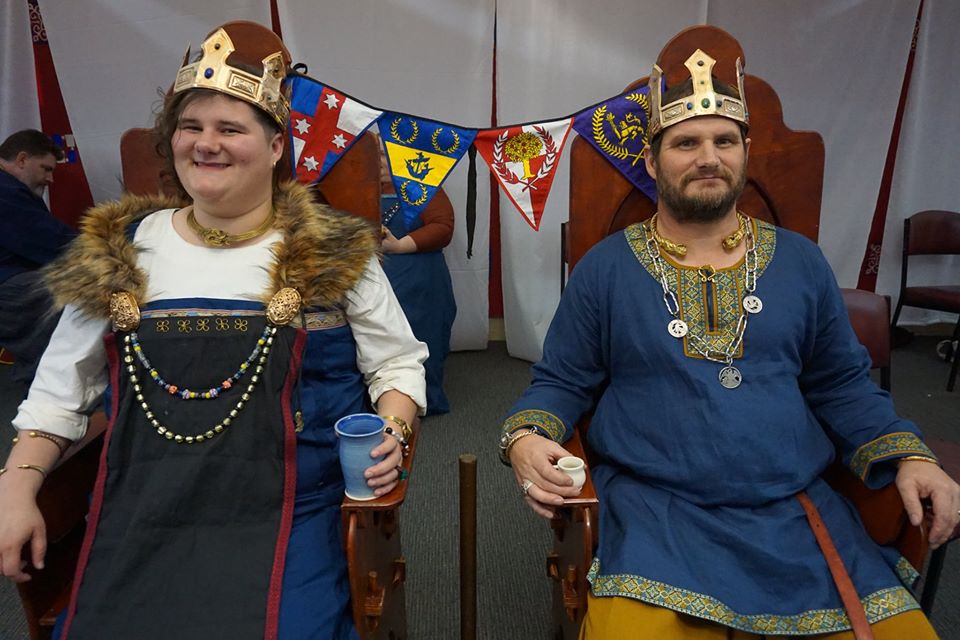 Arabella and David, Baroness & Baron Ynys Fawr
Founded

August 1988, Hrolf Herjolfssen Seneschal

Progress:

Shire: 22 July 1989; Barony: 10 July 1993 (Hrolf Herjolfssen and Madelaine de Bourgogne).

Baronage:

Sub-branches

College of S. Gildas the Wise, Canton of Lightwood, proposed Hamlets of Eastkirk and Leathann Tir; former Cantons of Shoental and Hunter's Isle (both disbanded). The mostly unpopulated region of Ynys Rhew (Antarctica) is held on behalf of the Crown.

Arms

Azure, on a fess between three laurel wreaths Or, a lymphad azure.

Newsletter

The Islander (not currently published)

Internet Presence:

Notable events

Great Southern Gathering, Brass Monkey War, Camel Feast

Name origin

Welsh, "the great island"; formerly Ultima Australis, Ynys Mawr

Motto

Long May She Float (Semper Natet)
Ynys Fawr is Lochac's sixth Barony, and the only one to span two continents. When Lochac first became a Kingdom, Baron Hrolf Herjölfssen was proclaimed Strategos tous notious okeanous (Admiral of the Southern Oceans) for defending the claims over Ynys Rhew (Antartica) against the Kingdom of Trimaris.  Because the Australian Antarctic Territory is administered from Kingston, Tasmania, it has the same postcode as Kingston (7050) and is thus part of the same Barony.
Ynys Fawr was the first Barony to have the same Baron and Baroness return for a second tenure (Hrolf Herjolfssen and Madelaine de Bourgogne, first and sixth baronage).  It was the first Barony to have a pair of Baronesses rather than a Baron and Baroness or solo Baroness (Adelindis filia Gotefridi and Anna Felice Tavestoche, seventh Baronage).  It is now the first Barony to have a father and daughter as Baron and Baroness, in the person of David de Darlington and Arabella de Darlington.
Baronial Awards
Baronial awards are bestowed by the landed Barons and Baronesses, often in response to recommendations they receive from the populace.
Order of the Gules Anchor
The Order of the Gules Anchor (formerly the Garnet Anchor) is awarded for service in the Barony.
Azure Pennon
The Azure Pennon is the Baronial arts and sciences award.
Bronze Falchion
The Bronze Falchion is awarded for martial activities, including heavy, fencing, light combat, target archery and siege weapons.
Sable Chain
The Sable Chain is given to recognise those who try everything the SCA has to offer.
Shining Beacon
The Shining Beacon is awarded to those who stay in persona, and act as a role model for behaviour.
Billowing Sails
The Billowing Sails is awarded to those households who have assisted and supported the Barony through long service.
Baronial Cyphers
The Baron and Baroness bestow Baronial Cyphers upon those who significantly enrich their tenure. The tokens change throughout time.
Songs of Ynys Fawr

Gersh's Back Yard, by Declan of Drogheda
The Baronesses' Garden, by Karl Faustus von Aachen – about Their Excellencies Adelindis and Anna.
A Grazing Mace, by Hrolf Herjolfssen – the first SCA filk song written in Lochac
The Snow-Spangled Banner, by Karl Faustus von Aachen – a piece of healthy advice for any future visitors to the Barony's southern protectorate.