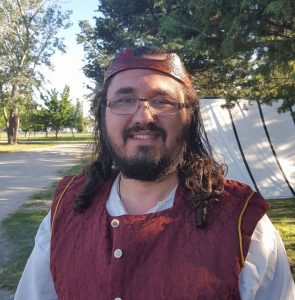 Sorle Maknicoll (previously spelled the Gaelic way: Somhairle Mac Nicail') lives in the Barony of Politarcholpolis. He is currently a protégé and apprentice to Countess Margie of Glen More.
Sorle is a former Crux Australis Principal Herald and former Kingdom Historian. He enjoys Heraldry, Combat (fighting and marshalling in all forms) and the Bardic Arts.
He assists groups, and the occasional Kingdom Officer, with migrating to and/or maintaining websites on the Kingdom of Lochac's WordPress Multi-Site installation, as a WordPress Masonry Assistant.
He has the bad habit of volunteering for almost anything, which he is trying to cure.
Offices Held
| Role | Group | Term |
| --- | --- | --- |
| Webwright | Kingdom of Lochac | February 2019 – Present |
| Coffyn Herald | Kingdom of Lochac | November 2018 – May 2019 |
| Crux Australis Principal Herald | Kingdom of Lochac | November 2016 – Nov 2018 |
| Baryl Herald | Kingdom of Lochac | September 2015 – November 2016 |
| SCA Ltd Board Member | (Australia) | January 2013 – March 2016 |
| Canon Herald | Kingdom of Lochac | November 2011 – April 2014 |
| Webwright | Barony of Rowany | June 2011 – October 2012 |
| Deputy Canon Herald | Kingdom of Lochac | April 2011 – November 2011 |
| Kingdom Historian | Kingdom of Lochac | October 2010 – September 2012 |
| Webwright | College of St Malachy | October 2010 – August 2012 |
| Marshal | College of St Malachy | October 2010 – October 2011 |
| Marshal | Shire of Adora | October 2010 – January 2011 |
| Word Press Admin | Masonry Team | 2010 – Present |
| Annunciator (List Boss) | Lochac Announce Mailing List | December 2009 – August 2013 |
| List Boss | Shambles Mailing List | October 2009 – August 2013 |
| Webwright | (Proposed) Shire of Radburne | June 2007 – May 2013 |
| List Keeper | (Proposed) Shire of Radburne | May 2007 – February 2008 |