The Original Arms
The first form of the device that eventually evolved into the current Kingdom of Lochac device originated from the design of a previous group who had attempted (and failed) to establish the SCA in Australia (prior to 1980). The colours used were intentionally the same as those used on the Australian flag, and the Southern Cross was also used because it is a common symbol of Australia. Conveniently, these colours and symbols are also symbols of New Zealand, whose SCA groups joined Lochac in 2003.
The arms of the Kingdom of Cumberland were emblazoned in the publication A Handbook for the Society of the Current Middle Ages, written in November 1980 by Lady Robyn Breheny (Now Mistress Rowan Perigrynne):
Quarterly 1 and 4 azure, 2 and 3 argent, a cross gules, the whole charged with the southern cross of the second, bordure of the same.
The very first banner ever made that depicts these arms was made by Robyn Brehony (now Mistress Rowan Perigrynne). This banner still exists, held in her safe keeping.
The Crown Principality (and Principality) Arms
Around October 1982, the group discovered that the device they'd been using to this point wouldn't pass through the College of Heralds. In particular, they were advised that they needed to drop the bordure and the fifth star. The revised device, depicted below, became the new arms of the Crown Principality of Lochac (and, subsequently, the Principality of Lochac). The arms were registered with the Principality in May 1983.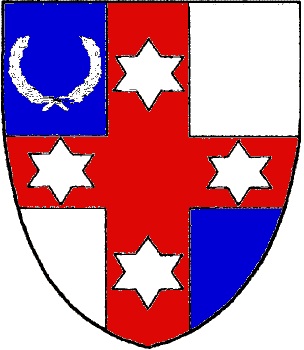 The Kingdom Arms
One of the decisions to be made for Lochac to be elevated to Kingdom level (which occured in July 2002) was to choose the official device. Eighteen devices were proposed for Lochac's Arms.
The far bottom right device in the figure above (which was proposed by Reynardine de Clifford) was chosen through a referendum. It was a popular option because it was a close resemblance to the earlier designs.
Variations of the Kingdom Arms
Royal Consort of Lochac
The victor of the Crown Tournament uses the Kingdom arms to represent themself. The consort, however, sometimes uses a slight variation with roses replacing the other charges on the Kingdom device. This is not an official badge, nor is it registered.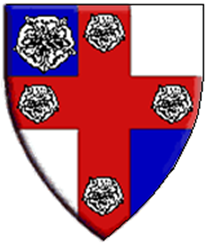 Populace Badge
The populace of Lochac often use the populace badge to show their allegiance to the Kingdom, rather than the Kingdom arms (which are reserved for the current Crown to display). The populace badge is based on the Kingdom arms with the laurel wreath and crown removed.
The populace badge was registered in April 2011 by Master Padraig Lowther.