Darton is a Shire of Lochac, based in Wellington, New Zealand. Darton originally formed around August 1999. The original name for the group was the Shire of Darchester, which was a Shire in the Kingdom of Caid from April 2002 (AS 36) before joining Lochac on 10 May 2003.
Along with Barony of Southron Gaard and the Barony of Ildhafn, Darton is one of the groups that make up the region in Lochac referred to as the Crescent Isles.
Darton is located on the northern border of the Barony of Southron Gaard, which are separated by the Strait of Winds. The Shire of Darton has been granted the right to take two deer from the Royal Preserves each year for the general feasting and merriment of the populace by the Crown of Lochac.
Newsletter and Online Presence
The Shire has various communication mediums, including their website, The Clarion (the occasional newsletter of the Shire) and a facebook group.
Name and Device
The device for Darton, as emblazoned on the Lochac Roll of Arms, is:
Sable, a hunting horn within a laurel wreath Or.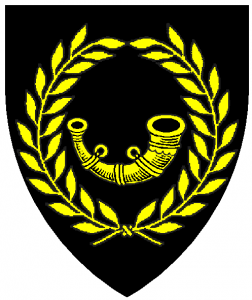 In AS38, the Kingdom of Caid granted Darton an Augmentation of Arms in recognition of their long ties with said Kingdom.
Signature Events
Darton's signature events include:
Darton Anniversary – each year in August, the Shire celebrates the anniversary of their founding.