Adora is a Shire of Lochac, based in Illawarra and the South Coast of New South Wales, Australia. Adora was proposed as to become its own Shire at Rowany Festival 2004 (AS 38) by splitting the existing Shire of Agaricus into its northern and southern halves. Adora was established as a full Shire on 24 May 2008.
Newsletter and Online Presence
The Shire has various communication mediums, including their website and an email list.
Name and Device
The original name of the group was Colles Ardorum (Latin for 'hills of flame' or 'hills of passion', inspired by the Illawarra escarpment and the Illawarra Flame Tree).
The device for Adora, as emblazoned on the Lochac Roll of Arms, is:
Per pale gules and Or, two dragons combatant and in base a laurel wreath counterchanged.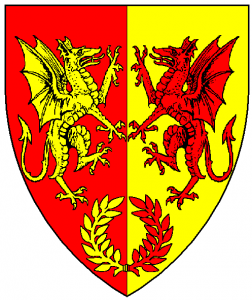 Subgroups
St Malachy is a College in the Shire of Adora, based at the University of Wollongong, New South Wales, Australia.
The device for St Malachy, as emblazoned on the Lochac Roll of Arms, is:
Argent, a tower sable within a laurel wreath, on a chief wavy vert an open book argent bound Or.
Signature Events
Adora's signature events include:
Feast of the Four Winds – this feast has been run by the group each year since November 2004 (AS 39) except in 2012 (AS 47) when they instead hosted Lochac's November Crown Tournament.
Flametree Ball – this event has been held every May since 1999 (AS 34).