The Barony of River Haven is based in North Brisbane and unclaimed Queensland, Australia. River Haven, along with Saint-Florian-de-la-rivière and the Shire of Willoughby Vale, is one of the groups that makes up the region in Lochac referred to as the Northern Reaches.
The group was initially formed on 3 September 1983 with ten founding members, and was elevated to Baronial status in 1986. Everard de Brieuse and Johanna Wendover are Baron and Baroness River Haven – that is, the founding Baronage of River Haven.
Newsletter and Online Presence
River Haven Rag is the newsletter of the Barony of River Haven. The Barony has a website, a yahoo group, a flickr group and a facebook group.
Reigning Barons and Baronesses
The full list and dates of all reigning Barons and Baronesses (also known as Landed Gentry or Landed Barons and Baronesses) are listed on the Canon Lore website under River Haven.
The current Baron and Baroness are Master William Castille and Katherine Alicia of Sarum.
Baronial Name and Device
The Baronial heraldry is described as barry wavy argent and azure, a seahorse erect to sinister within a laurel wreath Or.
Subgroups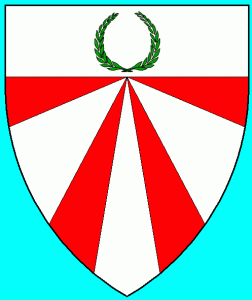 Gules, three piles throughout in point inverted and on a chief argent a laurel wreath vert.
The Canton of Stegby is based Warwick, Stanthorpe and Toowoomba in Queensland, Australia.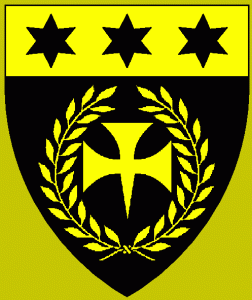 Sable, a cross formy fitchy within a laurel wreath and on a chief Or three mullets of six points sable.
Baronial Awards
Baronial awards are bestowed by the landed Barons and Baronesses, often in response to recommendations they receive from the populace. The Baronial Roll of Arms is available on the Baronial website.
Bridged Towers
An award given to recognise service done for the Barony.
Cross Portate
An award given once per Baronial Championship to someone that represents Chivalry, Service and Honour at the discretion of the Baron and Baroness
Golden Seahorse
An award to recognise the fighting arts in the Barony. It is awarded to the Baronial Champion and can also be awarded for archery, heavy fighting and rapier.
Lantern
In memoriam to those who have passed away.
Pierced Anvil
An award to recognise skills in arts and sciences.
Pilgrim's Shell
An award to recognise service done for the Barony by those from outside its borders.
Events in River Haven
The March Baronial Championship is held on the second Saturday of March each year.
The September Baronial Championship is held on the second Saturday of September each year.
Great Northern War is alternately hosted by River Haven and Saint-Florian-de-la-rivière in June each year.