The adventures of Captain Innilgard began just before Suth Moot IV in April of 2012. Don Everard Sefar, a citizen of the Barony of Kraé Glas, had been very helpful to the Barony of Innilgard – so Baron Aylwin Greymane and Baroness Ingerith Ryzka decided to make Don Everard an honorary citizen of Innilgard. As a symbol of this, the Baron and Baroness gave him a t-shirt bearing the Innilgard device. During the Suth Moot event, Don Everard wore his new t-shirt under his doublet and would periodically flash the Innilgard device, Clark Kent style. At this same event, the Barony of Innilgard offered Don Everard an endless supply of t-shirts to buy his loyalty, and the Barony of Kraé Glas offered him an endless supply of fencing students to teach.
It soon became quite common for 'Captain Innilgard' to be used in court rather than 'Don Everard Sefar', particularly when the neighbouring Baronies of Kraé Glas and Innilgard shared courts. As such, the adventures of Captain Innilgard, and a merry game of one-upmanship between the Barons and Baronesses of Kraé Glas and Innilgard, began.
At Great Southern Gathering in September 2012, Baron Cormac Lenihan and Baroness Elspeth Caerwent of the Barony of Kraé Glas presented Captain Innilgard with a Kraé Glas sweatshirt with 'Property of Kraé Glas' written across it in response to the Innilgard t-shirt that initiated the following exchanges.
The Baron and Baroness of Innilgard thought it unfair that Captain Innilgard had been demoted to being (in their words) a chattel at best or a slave at worst, so they decided to free him from being merely 'property'. As a result, a cape was made for the Captain – an idea that was formulated whilst Their Excellencies of Innilgard were visiting Gwynfor that a cape would easily cover the 'property of Kraé Glas' slogan and thus "free" the Captain.
A blue satin(ish) cape with the Innilgard fret in sequins and 'shazams' on the fret ends was created, attached with two Grateful Dead buttons, both red, white and blue, matching Innilgard's colours. Both buttons featured lightning bolts, mirroring the shazams. This magnificent cape was presented to Captain Innilgard during the final court of the Twelfth Night divestiture of King Henri de Montferrant and Beatrice Maria Malatesta in Kraé Glas, January 2013.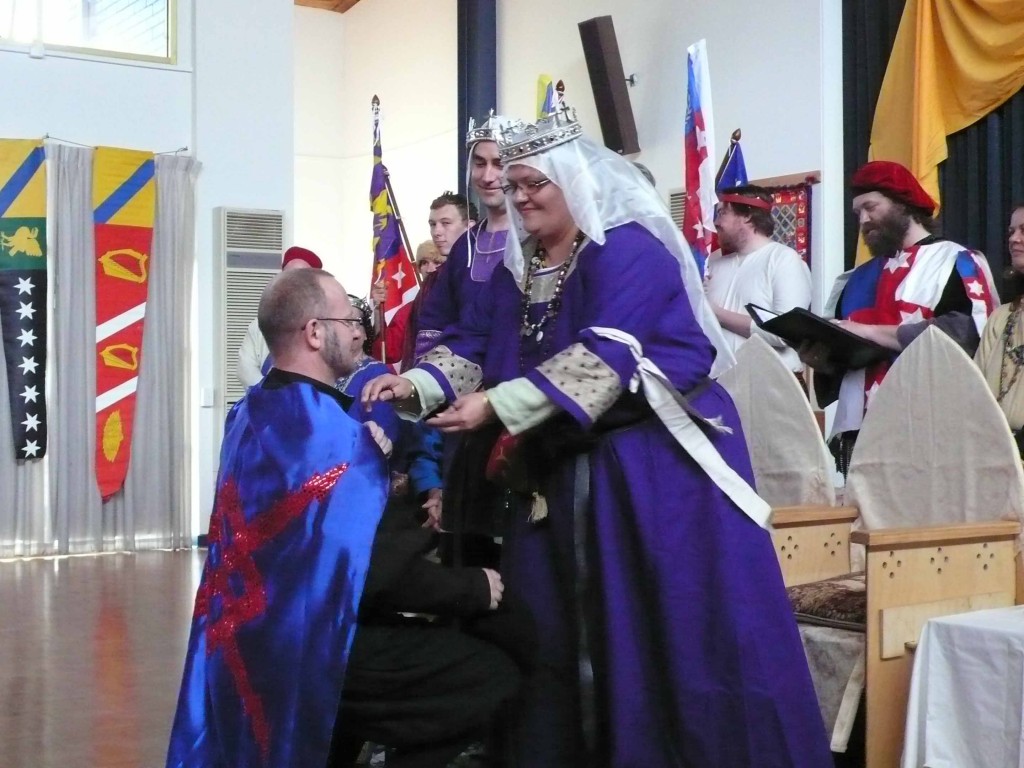 The Baron and Baroness of Kraé Glas, not content with one of their citizens being claimed by another Barony, responded by presenting Captain Innilgard with a gold, jewel-studded cane at the Kraé Glas event,  Jour d'honneur, in August 2013.
Yet again, Their Excellencies of Innilgard were minded to respond. At their step-down as Baron and Baroness of Innilgard in April 2014, they presented Captain Innilgard with a buckler painted with the device elements of Innilgard in the style of another famous Captain. They had expected the Captain Innilgard saga to die when they stepped down and wanted to make a strong final statement with the buckler. However, this was not to be. After the presentation of the buckler, Their Excellencies of Kraé Glas presented the Baron Aylwin and Baroness Ingerith with a Captain Innilgard action figure.