Great Northern War XVII (GNW 17) was held at BP Park – 68 Cash Avenue, Samford, Queensland over the June long weekend (Friday 5th – Monday 8th June 2015, AS50). It was a fully catered event with dorms for interstate visitors and on site camping available.
The event is run alternatively between the Northern Reaches baronies – this year it was hosted by the Barony of Saint-Florian-de-la-rivière. More information is published about the event in general is available on the Great Northern War event page.
Event team
Stewarding team
Event officers
Catering
Catering Menu
TH Countess Beatrice Maria Malatesta was head cook for GNW 2015.
The menus from GNW 2015 are listed below, with dishes marked as gluten free (gf), vegetarian (veg), vegan and/or dairy free (df) marked where applicable.
Breakfasts
Saturday, Sunday, Monday
Bacon
Eggs
Mushrooms
Porridge
Weetbix
Cornflakes
Bread
Morning/Afternoon Teas
Saturday, Sunday, Monday
Tea
Coffee
Fruit
Biscuits
Lunches
Saturday, Sunday, Monday
The lunches were co-ordinated by TH Lady Christine Bess Duvaunt.
Cold meats
Green Salad (gf/df/veg)
Cucumber salad (gf/df/veg)
Onion and Leek Soup (Saturday) (gf/df /veg)
Mushroom Soup (Sunday) (df/veg/gf flour used)
Cheese
Bread
Boiled Eggs
Carrot Sticks
Apples
Mandarins
Pickled Onions
Pickles
Olives
Fruit Cake
Biscuits (GF available)
Friday Night
The Friday night soup kitchen and sausage sizzle will be run by Lady Ringwar Northwood.
Before/during Flame Tourney
Potage Dyvers (Beef Stywyd)
Beef Stew (df)
Gourds in Pottage (gf / df / veg)
Vegetable Soup (gf / df / veg)
Cock-a-leekie (Chicken and Leek Soup) (df / gf)
After the Flame Tourney
Saturday Night Feast
The Saturday night feast was run by TH Countess Beatrice Maria Malatesta and TH Baroness Hróðný Aradóttir.
Barley Pilaf (veg)
Lamb balls in broth (gf / df)
Lentil Stew (df / gf)
Bread Roast Beef (gf / df)
Roast Chicken (gf / df)
Lombard mustard (gf / df)
Gravy (gf / df)
Armoured turnips (gf)
Loseyns (medieval lasagne) (veg)
Roasted carrots (gf / df)
Minted Peas (gf)
Chickpeas in oil with garlic (gf / df / veg)
Garlic Torte (veg and gf only)
Applemas (gf)
Pears in Red wine (gf / df)
Spanish pastries (squares of pastry sprinkled with sugar and cinnamon)
White wine with sage and honey for the high table
Sunday Night Feast
Baron Drake Morgan and Lady Natal'ia Vladimirova 'doch ran the Sunday night feast based on the manuscript named 'Emporers Food and Drink (yin shan zhengyao)' by Hu Szu-hui [YSCY].
Meats:
* Willow Steamed Lamb [YSCY] – Roast Lamb with a Asian style glaze (gf / df)
* Seu Soup [YSCY] – Boiled Lamb with Pomegranate Molasses… (gf / df)
* Chicken cooked in Bean Sauce [YSCY] –Chicken and Onions with a 'bean sauce'(df)
* Meat cakes [YSCY] – Beef Hamburgers with a central Asian spicing served with a yoghurt and herb sauce (gf and df on demand)
Carbs:
* Steamed rice [Descriptions from William Rubruck's Journal] – Steamed with cinnamon/cardamom/clove. (gf / df / veg / vegan)
* Cooked Millet [Descriptions from William Rubruck's Journal] – Millet cooked with caramelized onion and butter (gf / veg; df and vegan on demand)
* Chickpeas [YSCY adaption] (absolutely…just need to find a reasonable recipe) – Served cold – smaller batch (gf / df / veg / vegan)
* Fried bread [Charles Perry's article on central Asian breads] (or there will be a revolt and this is not vegan friendly) (df / veg)
Veggies:
* Green Bean with Sesame [Adaptation] – (gf / df / veg / vegan)
* Fire-roasted Onion [Descriptions from William Rubruck's Journal] – (gf / df / veg / vegan)
* Cabbage Soup with Honey [Descriptions from William Rubruck's Journal] – (gf / df / veg)
Vegetarian/Vegan only recipe:
* Eggplant Manta [YSCY] – Finger Eggplant stuffed with Lamb mince, replaced with Vegetarian Mince or Mock Duck… (veg; vegan option only)
Kumiss was available at the Jolly Duke for the Brave/Insane. (gf / veg)
Jolly Duke Tavern
Baron Master Drake Morgan and Duke Sir Alaric of Bangor hosted the ever popular Jolly Duke Tavern, beside the dining hall. The Jolly Duke Tavern drinks were free – largesse from the Patrons of the establishment. The beverages included home brewed alcohol and some cordials – this year's offerings included approximately 300 litres!
Jolly Duke had 6 taps on this year, with 2 taps for non-alcoholic choices, including:
Beer:
Threepenny Mild,
Go-by-the-Wall English Strong Bitter,
Cherrywood Smoked Beer,
Old Duke Spiced Ale,
Poacher's Braggot (Gluten Free Honey Beer),
(From the Largess of Burnfield) Scottish Wee Heavy.
Ciders and Wines:
Peach Cider (we've done 3 barrels of it this year),
Raspberry Cider,
Ginger Cider,
Elderflower Cider,
Dry Cider #1 – strong and smooth, slightly off sweet,
Dry Cider #2 – strong and very tart,
Raspberry Wine.
Heavy Fighting
Flame Tournament
The traditional Flame Tourney was held on Friday night in the ring of fire – a double roped, large-sized list field with gas-fuelled fire, cross bars and braziers.
The tournament was an eight round grand melee (single engagement at a time) with the winner of each round gaining admission to the single kill, single elimination semi finals. The final two fighters competed in a single kill, triple elimination.
At GNW XVII, there were 40 heavy combatants in the list. The eight combatants who progressed to the finals were:
The quarter final results were:
The semi final results were:
Grand final results:
Duke Sir Gabriel de Beaumont defeated Count Sir Berenger of Nancy in the grand final of the Flame Tournament.
Knight School and Melee Games
Saturday saw the return of Knight School, where Knights in attendance were invited to teach aspects of heavy combat on the list field.
During lunch, Count Sir Henri de Montferrant ran melee games. The list field was fitted out with a net at each end, and a team of four played off against a team of six in a game of armoured soccer.
Ultimate Fighter Series
Over two years, Count Sir Berenger of Nancy co-ordinated the Ultimate Fighter Series. In this, various Baronies held a set of five tournaments locally, with each requiring different weapons combinations. The top two non-belted fighters at the end of the five tournaments (who could get to GNW) were invited to represent their Barony in the finals.
The ten fighters who competed (by Barony) included:
Innilgard: Lord Finnbjorn Skeggesson and Lord Tristan
Mordenvale: Master Orri Vigleiksson and Master Padraig Lowther
Northern Reaches (Saint Florian and River Haven): Lord Alain Quartier, Kaeso Flavius Artorius Gladius and Lord Lankin Ealdwulf
Politarchopolis: Lord Mark Ottignon and Baron Aonghus mac Griogair mhic Raghnaill
Rowany: Baron Miles de Colwell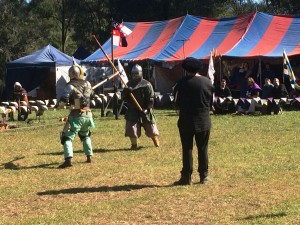 The tournament was a round robin, with Master Orri and Lord Mark placing top two. They fought a best of three finals, with Lord Mark Ottignon victorious.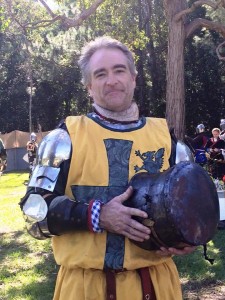 War
On Saturday and Sunday there was war held, with scenarios run by Count Sir Henri de Montferrant.
The Saturday war sides were the Khatun's side (i.e. the conquered lands of Lochac) versus Duchess Liadan ingen Fheradaig's (Southern Rebel Alliance) side. They mostly fought in and around the war fort.
On Sunday, combatants fought in a bridge battle and some open field battles.
Powerful Owl Fighter Auction Tournament
The Fighter Auction Tournament, a single kill and double elimination style, included 22 heavy combatants compete. The auction itself raised almost $1,200 to improve next year's event.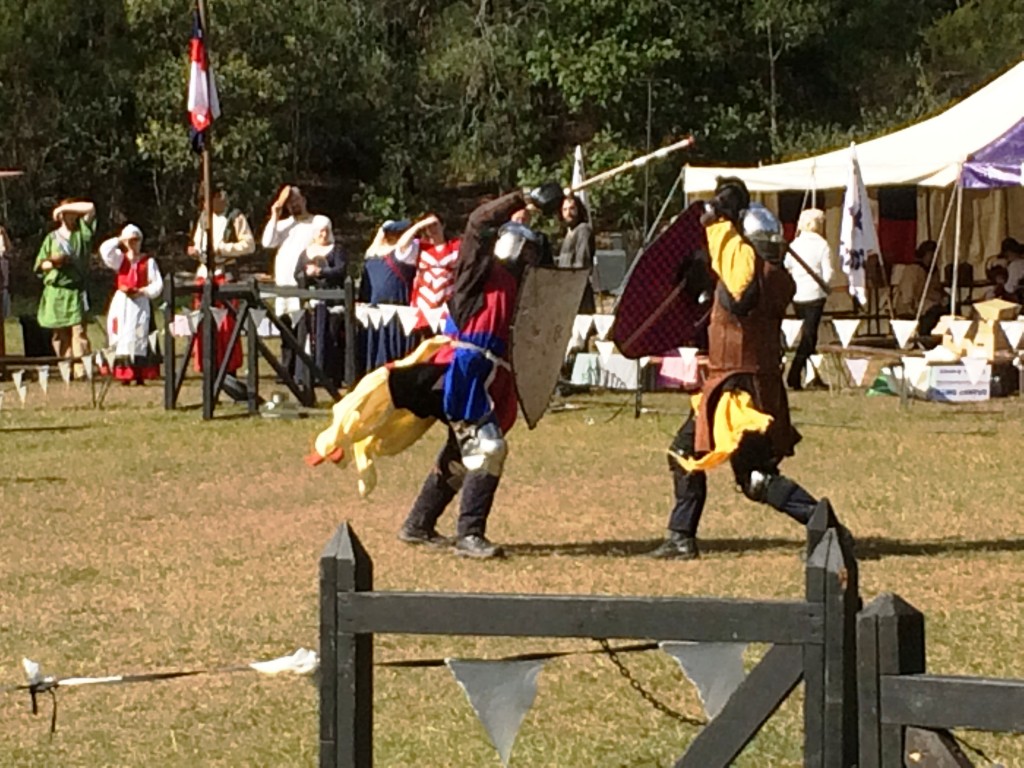 The tournament was won by Sir Radbot von Borg, defeating Kaeso Flavius Artorius Gladius 2-1, giving him the title of Powerful Owl for a year.
Rapier
Rapier School
Saturday was a casual fighting/training day and saw Lady Euphemia di Niccolo Ziani and Lady Leonor de Alcocer successfully authorise for fencing. TH Lady Ceara Shionnach ran a beginner class for Rapier School, with Sir Somerled of Redcliffe and Baron Yevan de Leeds teaching in armour.
Valhalla Tournament
On Sunday, ran four rounds of a nine person Valhalla style tournament. Sir Somerled of Redcliffe claimed victory as champion of the tournament.
Owlish Rapier Auction Tournament
On Monday, seven fighters entered a round robin format tournament that raised almost $300 for the event next year. Baron Yevan de Leeds defeated Lord Finnr Magnusson in the best-of-three finals, with Lord James of Southron Gaard placing a close third.
Entertainment
During the evenings of Great Northern War there are often various games or other activities to entertain the populace. This year, one such entertainment was a play directed by Lady Lucia Littlefaire.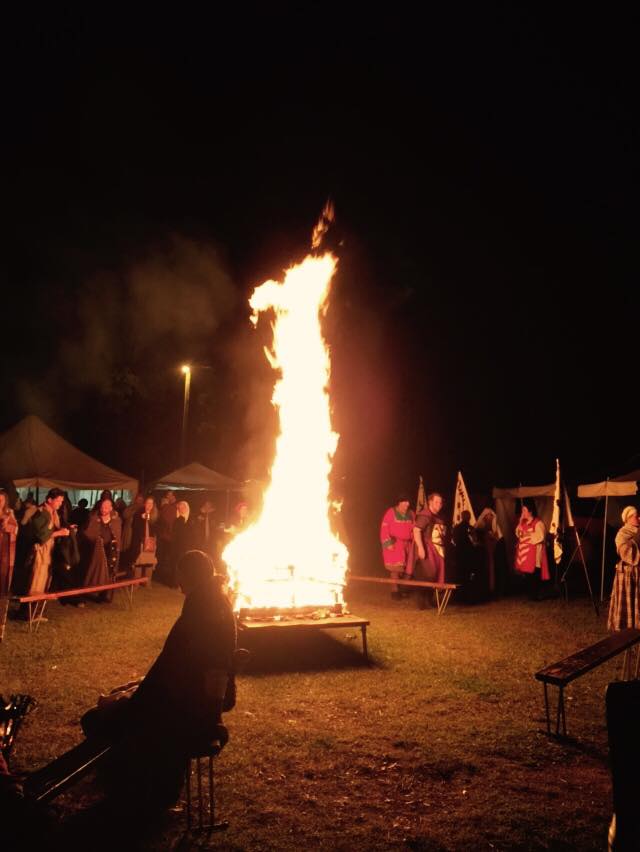 Firelight Games
On Saturday night after the feast, TH Lady Christine Bess Duvaunt ran a series of sheep stealing wars with boffer weapons and pool noodles.
On Sunday night after the feast, some chariot races, sheep stealing wars and pool noodle hockey were played. Chariot jousting was then undertaken between Prince Steffan Glaube and his daughter, pulled along by two 'valiant steeds' each.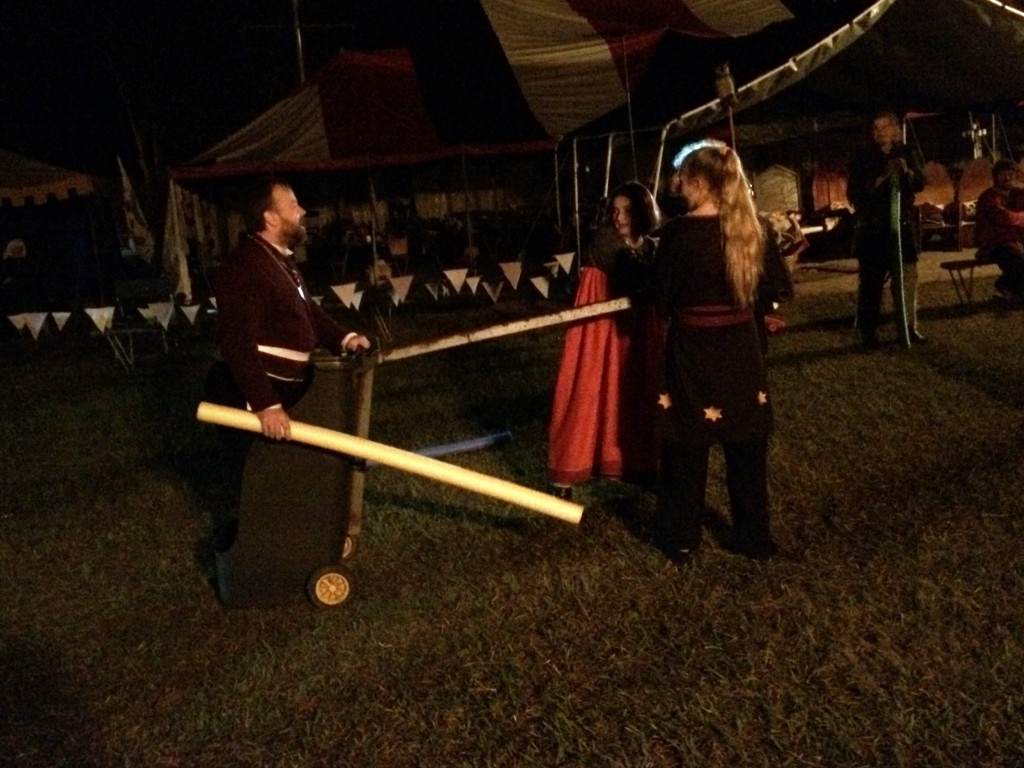 After this, Duchess Liadan ingen Fheradaig came up with a bunch of games (in addition to the games already played). These included boffer wars, duck duck noodle (similar to duck duck goose, but with amended rules for lots of hitting with pool noodles), and pool noodle dodgeball. After all, if you can dodge a wrench, you can dodge a noodle.
Owl Bingo
To encourage silly fun, TH Lady Christine Bess Duvaunt devised an Owl Bingo game that was located in the back of the event booklet.
The idea was to complete as many activities as possible, getting someone who observed you completing the task to sign the corresponding cell in the owl grid.
Activities included:
1 – DO A LAP OF THE LIST FIELD HOPPING, WEARING BELLS (bells on string will be hanging from the list field for use in this activity)
2 – OUT OF NOWHERE, DO A DEATH SCENE AS DRAMATICALLY AS POSSIBLE
3 – FIND 2 OTHERS AND DO THE CHICKEN DANCE BEHIND A PELICAN
4 – FIND A HERALD AND CHALLENGE THEM TO A PUN-OFF
5 – DO A PERFORMANCE OF SOME KIND TO ENTERTAIN THE POPULACE (SOLO OR GROUP) WHILST IN THE LUNCH QUEUE
6 – WRITE A POEM FOR SOMEONE YOU KNOW AT THE EVENT AND PERFORM IT TO THEM
7 – CLEAN SOMEONES DISHES AFTER LUNCH
8 – CLEAN SOMEONE ELSE/S DISHES AFTER FEAST
9 – FIND 3 OTHERS AND DO A 5 SECOND SILLY DANCE BEHIND A LAUREL
10 – TRY TO PURCHASE A CUP OF UNICORN JUICE FROM THE JOLLY DUKE TAVERN
11 – BRING WATER TO SOMEONE ON THE WAR FIELD
12 – FIND A PERSON FROM THE CRESCENT ISLES AND INTRODUCE YOURSELF. IF YOU'RE FROM THE CRESCENT ISLES, FIND A PERSON FROM TERRA ROSA AND INTRODUCE YOURSELF. (Crescent Isles = NZ, Terra Rosa = Australia)
13 – TRY TO DO AN ACCENT FROM THE CRESCENT ISLES TO A PERSON FROM TERRA ROSA, IF YOU'RE FROM THE CRESCENT ISLES, TRY TO DO AN ACCENT TO SOMEONE FROM TERRA ROSA. (Crescent Isles = NZ, Terra Rosa = Australia)
14 – DO A SPONTANEOUS DANCE ON/NEAR THE WAR FIELD WITH ONE OTHER FOR 5 SECONDS
15 – SING OR HUM THE TUNE OF GREENSLEEVES WHILE SKIPPING AND DISTRIBUTING FOLIAGE IN FRONT OF SOMEONE AS THEY WALK (flower girl at a wedding sort of thing)
16 – FIND A REDHEAD FROM POLITARCHOPOLIS AND INTRODUCE YOURSELF
17 – MAKE AN OWL MASK FROM MATERIALS FOUND ON SITE. WEAR IT FOR A MINIMUM OF 30 MINUTES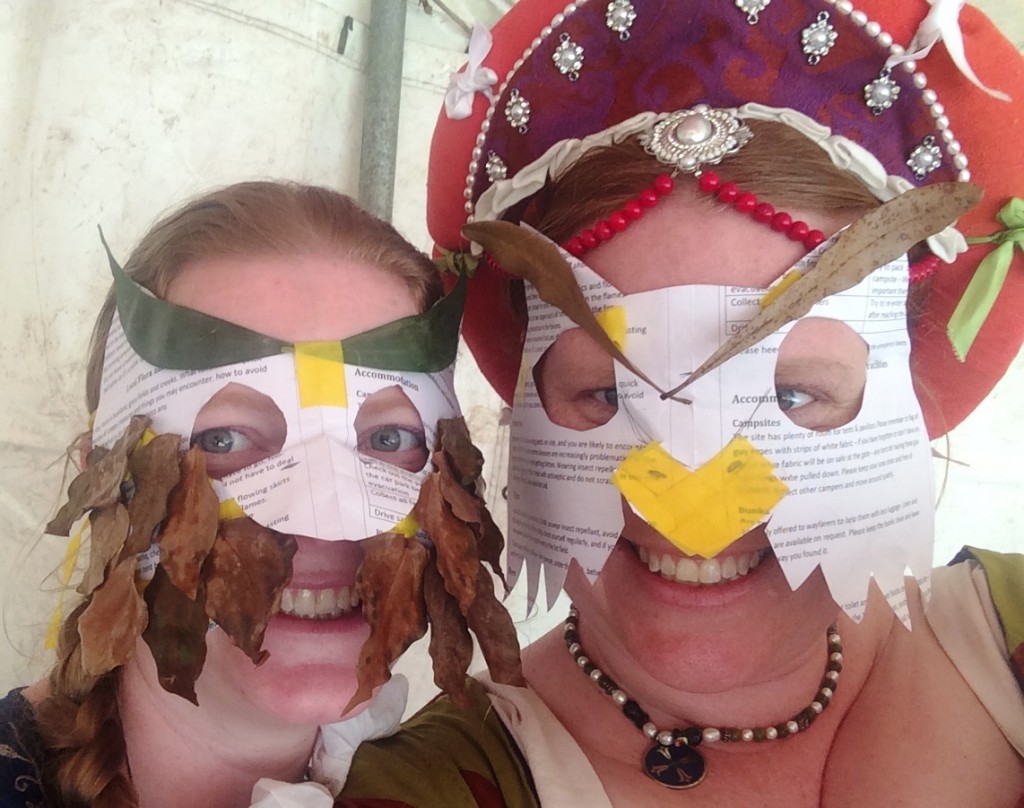 18 – MAKE/OFFER A DRINK TO SOMEONE
19 – TELL A REALLY BAD 'DAD' JOKE TO SOMEONE
20 – TAKE PART IN A GAME DURING THE EVENT
21 – OFFER A KNIGHT SOME DUCT TAPE
22 – ASK A KNIGHT TO SAY 'NI'
23 – IN A CROWDED PLACE, PRETEND YOU'RE A MIME STUCK IN AN INVISIBLE BOX FOR AT LEAST 30 SECONDS
24 – TAKE A SELFIE WITH ONE OR MORE FRIENDS DOING ONE OF THE TASKS ON THIS LIST
25 – POINT AT SOMEONE AND SHOUT "YOU'RE ONE OF THEM, RUN!" RUN, PRETEND TO TRIP, AND CRAWL AWAY SLOWLY.
Photo Scavenger Hunt
In order to gather a variety of images for Saint-Florian-de-la-rivière's online picture gallery, Lady Flur' de Olepenne organised a photo scavenger hunt. Lady Flur' offered handmade leather tokens as rewards for those who completed the task.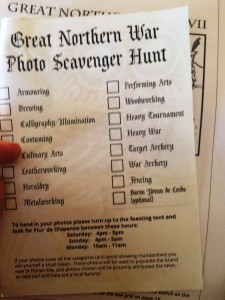 Arts and Sciences
There were over 25 classes on offer over the weekend, some for adults and some kids focussed. Topics ranged from sewing/embroidery, illumination, Viking beads, and leather pouches to dancing and cheese making.
Archery
The archery field saw much action over the event, including an IKAC shoot, a Royal Round competition, a hunt, a clout shoot and a children's novelty shoot.
Equestrian Activities
There were four horses on site that competed in a variety of equestrian activities across the weekend.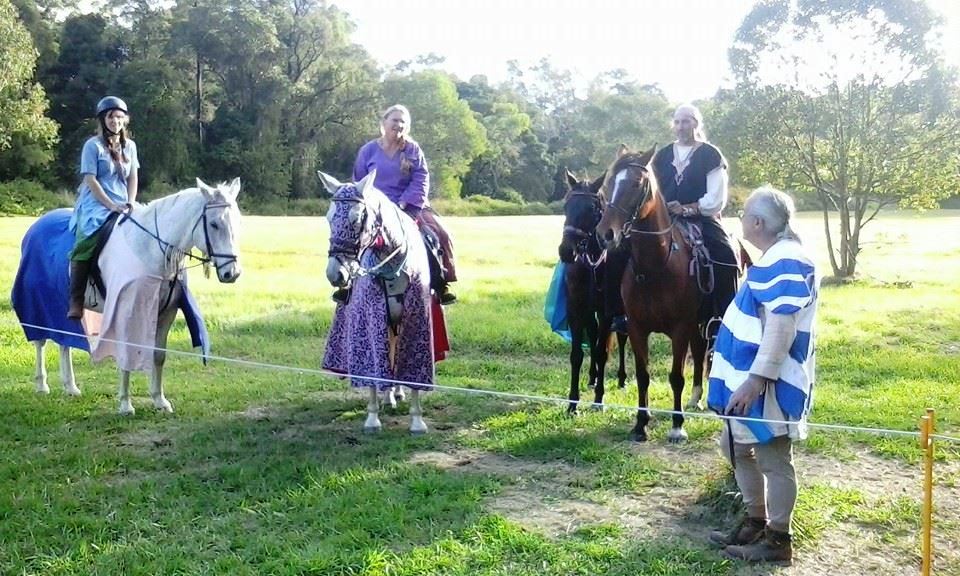 Kids Activities
Kinder Keep was an exciting area for the children at the event to play, co-ordinated by Baroness Ginevra Lucia di Namoraza. The Keep included various childrens activities (including colouring in, blackboard-painted shields and table, and some arts and sciences classes), a giant chess game, a riveting quest ending in piñata candy and Boffer Auction Tournament.
The Boffer Auction Tournament raised over $200. The 5-9 years boffer victor was Georgia, and the 9-13 boffer victor was Sean of River Haven.
Kingdom Raffle IV
The fourth Kingdom Raffle, as run by Countess Mistress Lilya bint Hizir, was Tudor themed. The raffle raised almost $600 for the Kingdom, and the winner of the raffle was Lord Rastis Radoslavov.
Peerage
In Court on Saturday night during the feast, House Jorsala was called up before the Khagan and Yeke Khatun. There they asked Lord Gilbert Purchase if he would agree to join the Order of the Chivalry, and they asked him to return to court the following night with his answer. During Sunday night's court, he accepted Their Majesties offer and will be elevated at a time and date of his choosing.