Lochac's First Crown Tournament was held on Saturday the 30th of March, 2002 (AS36) as a part of Rowany Festival XX, hosted by the Barony of Rowany at the Tara Girl Guide Camp, Silverdale, NSW, Australia.
The King and Queen of the West Kingdom, Uther Schieman der Hount IV and Portia Vincenzo I, and the last Prince and Princess of the Principality of Lochac, Gawyne d'Ibelin and Yve d'Angely, were in attendance for the occasion.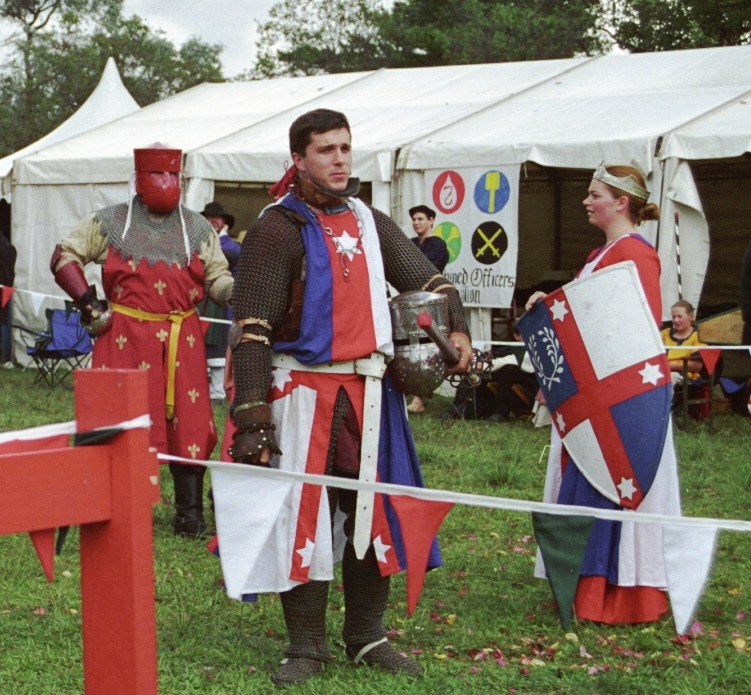 As at AS50, this remains Lochac's largest Crown Tournament.
Entrants
The tournament ran for ten rounds with a single kill, double elimination format followed by a best two out of three final. Mistress Nicolette Dufay was in charge of Crown lists for the day. 56 combatants and their consorts entered Lochac's First Crown, with all Baronies and many other groups of the Principality represented on the field, including:
Adam the Renegade fighting for Kiriel du Papillon,
Ædward Stadefæste fighting for Yolande Kesteven,
Agro Agwesi fighting for Glynhyvar of River Haven,
Alaric of Bangor fighting for Nerissa de Saye,
Alfar of Attica fighting for Gudrun Bodvarsdottir,
Antoine le Rêveur,
Bain of Stornoway,
Berenger of Nancy,
Bertrand de Mons,
Bohemond Drakerath of Wadestone,
Bran of Lochiel,
Brennan Halfhand,
Brusi Anderson of the Shetlands,
Conan MacAndreis,
Cormac Lenihan fighting for Elspeth Caerwent,
Cornelius von Becke fighting for Morwynna Branwynt,
Dafydd ap Iorwerth ap Rhodri de dena,
Dafydd of the Glens,
Dai Bach,
Dareios Rossos the Vigilant,
Edmund Ale-connor fighting for Leta von Goslar,
Eric Alard,
Finnian the Red,
Gerald of York,
Golgol of Mordenvale,
Gregory of Loch Swan,
Gui von Oberhausen fighting for Ælfled of Otterburne,
Guillaume d'Oze,
Gwynfor Lwyd,
Heinrich Maximillian von Hesse,
Hrothgar aet Gytingbroce fighting for Helene du Puy,
Ianto van Dieman,
Julianna Gladwyn,
Kitan von Faulkenberg,
Leofric Willougby de Broke,
Leonhardt von Saxenburg,
Lindoret of Bryn Myrddin,
Loyola Juan Sanchez Mendoza,
Mynjon du Jardin,
Nathan Blacktower fighting for Catherine D'Arc,
Nemain of Eire,
Nicolette de Colours,
Philipe du Lac fighting for Contarina la Bianca,
Raymond of Annan,
Rioghan of Saarlands,
Robert of Strathconnan,
Somerled of Redcliffe,
Steffan Glaube fighting for Branwen verch Lewis ap Thomas,
Talia de la Roche Guyon,
Thaddeus Blayney,
Ulvar MacVanis,
Vladimir Ivanovich Kurgan,
William Cumyn,
Wulfric Blacmaine,
Wulfgar Jarnsiða, and
Yves de Lyle.
Results
In the semi finals (round 9), Alfar of Attica defeated Ædward Stadefæste and Brusi Anderson of the Shetlands defeated Cornelius von Becke.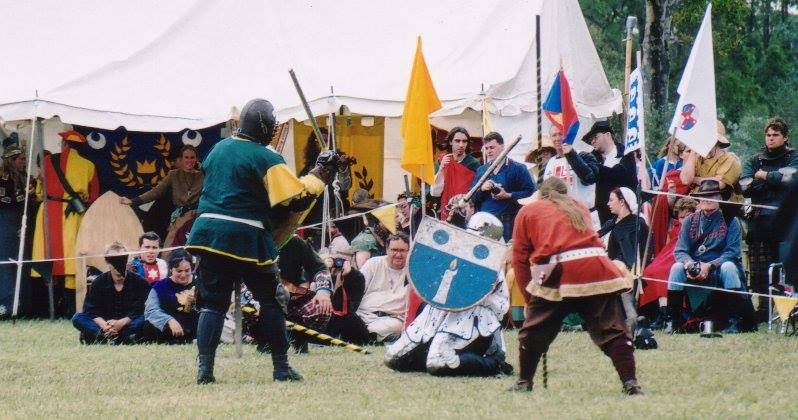 In the best of three finals, Alfar defeated Brusi in the first, Brusi defeated Alfar in the second, and Alfar defeated Brusi in the third.
Alfar of Attica and Gudrun Bodvarsdottir were named as Lochac's First Crown Prince and Princess, to be elevated as the First King and Queen at Lochac's First Coronation.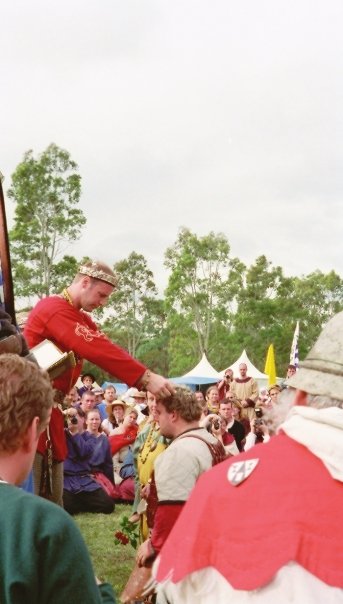 Alfar and Gudrun were later gifted with a scroll that lists all of the bouts and rounds of Lochac's First Coronation.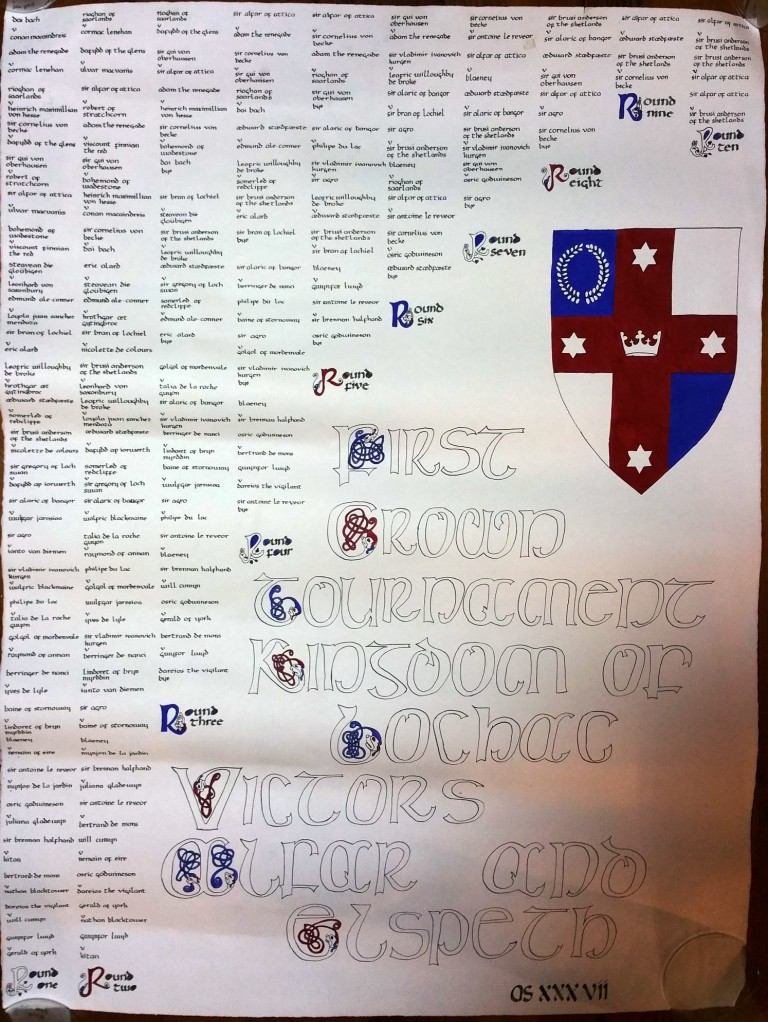 Wreaths and the Knotted Sword
After the tournament, the Wreath of Valour was bestowed upon Guillaume d'Oze and his consort, and the Wreath of Chivalry was presented to Ædward Stadefæste and his consort Yolande Kesteven.
The Knotted Sword, awarded for best (i.e. most entertaining) death in a Crown Tournament, was awarded to Thaddeus Blayney.